What is UNCON
Uncon was created by a local community of board gamers – find us on Facebook "Margate Tabletop and boardgame club".
Uncon was originally a huge gaming birthday party that was so popular that it was an "unconventional" convention, our name was born! We have successfully hosted UNCON 3 times, growing in popularity each time. We are a proud community of board gamers who are part of margate tabletop boardgame club, meeting each week in margate to play boardgames. We merely wish to share our love and passion of our hobby to entertain the community and keep the hobby alive and thriving and to meet new people.
In order to share our love for the hobby, any profits made from this event goes towards to next, so the fun never stops! We appreciate your custom and look forward to seeing you in November! - or at one of our Monday night board game meets in Margate!
Uncon organizers: Darius Twyman and Jessica Mills with grateful help from all of our volunteers!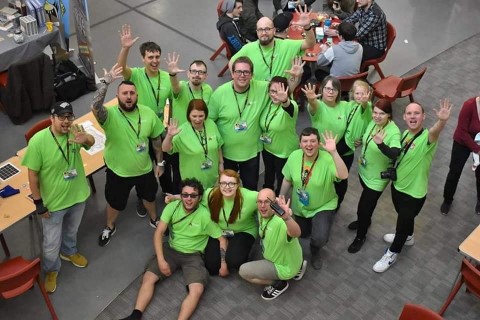 UNCON 2022 will be hosted at St George's School, Westwood Road in Broadstairs, where free parking is available. Should you have any questions about UNCON or on how to get there, please check our FAQs page or contact us using the details below.
Getting to Uncon
By Car
Easily accessible from anywhere in Thanet, with good connections to the rest of Kent and London via the M2 and M20.
Plan a route:
google.co.uk/maps/
theaa.com/route-planner/
By Train
The nearest train station is in Broadstairs, which is a 25 minute walk from St George's School.
Train times:
southeasternrailway.co.uk
nationalrail.co.uk
Taxi from the station?
By Bus
The number 9 bus stops on the opposite side to Broadstairs railway station and runs once an hour. The nearest stop is the Water Tower on Rumfields Road. The number 34 bus also runs from Birchington and stops outside ASDA. Both bus stops are just a four minute walk away.
Please note that these buses only run on a Saturday.
Bus times: